TeamSpeak
From Runsafe
TeamSpeak 3 is Runsafe's VOIP of choice after moving away from Ventrilo. As Runsafe is a gaming community, there are no restrictions against joining. We have a wide range of players spread across many games!
Downloading/installing TeamSpeak 3
Go to the TeamSpeak3 download page here
Select the correct version for your operating system and hit the download button.
Check the 'I agree' check-box on the license agreement and then hit 'Submit'.
Hit the 'No thanks, take me to the download' button and your download will start.
Run the installer that you just downloaded and follow the on-screen instructions until done.
Connecting to Runsafe's TeamSpeak3 server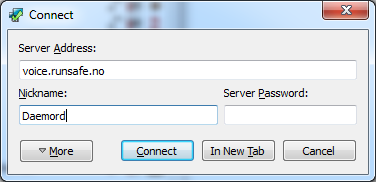 Connecting to our server is easy. Once the installation of TeamSpeak has finished, open up the program. On the top options bar click the first button titled 'Connect' and you will then be faced with an options window. Fill out the form fields with the information below and then press the 'Connect' button.
Server Address: voice.runsafe.no
Nickname: The name you are commonly associated with in games (IE: Daemord)
Server Password: Leave this blank
While you may choose any nickname, impersonating other members of the community on purpose will often result in a ban. As always, we reserve the right to remove you from our TeamSpeak server at any time.
Teamspeak Ranks & Permissions
To see a list of Server and Channel ranks along with what each rank can do click the link below.
Tips and tricks for managing channels